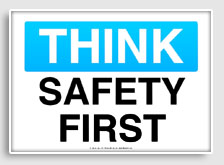 We here at U.S. Industrial Supply pride ourselves in providing the safest solution for your work environment.  There are a combination of factors that are important when dealing with safety.
You must first consider the sturdiness of the structure and how much weight it will need to support.  Whether it's steel or aluminum, there are always options for thicker material and more bracing to provide a more heavy duty Platform Ladder.
Industrial Ladders and Stairways are our specialty.  There is no job too small or big for U.S. to handle.  Contact one of our representatives so they can consult you in providing the best solution for your access needs.